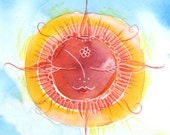 This is a very serene and warming reminder that no matter how many clouds are above your head, the sun is always shining above them.
Cathy painted this with love and will print a buttery smooth giclee on Ilford premium matte photo paper for you in her studio.
Red is the color of your base chakra, all about your connection to the earth, and your survival. What better way to feel and know that you are c...
Click Here to Visit My Etsy Shop!